Is your company committed to animal-friendly and sustainable standards? Maybe you're interested in switching to a more environmentally friendly form of production. Do you offer innovative vegan products or services that you'd like to familiarize the vegan community with? Then partnering with PETA may just be the way to go! This is what we stand for:

PETA partners with companies whose products or services represent a commitment to animal rights, the environment, and sustainability. Our goal is to help these products and services reach a wider market. Therefore, we advise interested companies in the following fields on opportunities presented by the ever-growing market for animal-friendly goods and services:
Food
Cruelty-free personal-care items, cosmetics, and cleaning products
Companion animal food and other products
Entertainment and tourism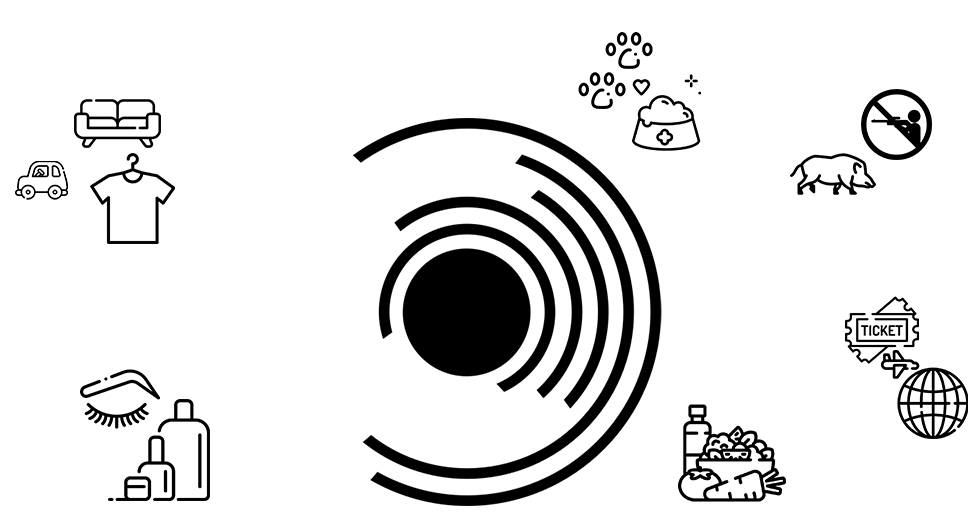 PETA's operating principles include empathy, compassion, credibility, expertise, and persistence. Promotion of vegan living is at our very core, so we use creative forms of communication to win consumers over and further our cause.
Ways of Partnering With PETA
We offer various ways for companies to partner with us – here are some examples:
Consumers appreciate companies that are committed to sustainability. If you partner with PETA, you can use our internationally renowned logos on your products or in marketing campaigns. This will help consumers recognise your commitment to sustainability and animal welfare while you benefit from PETA's prominence and image.

In cooperation with fashion brands, PETA works to get cruelty-free styles and designs on the market and in stores to promote vegan fashion. We created a logo that helps consumers find vegan clothing more easily. At the same time, it can highlight your vegan fashion, accessories, and other items as well as your commitment to animals.
Textile and fashion companies that operate in a sustainable manner and make vegan items may also qualify for PETA's Vegan Fashion Award, which honours trendy, innovative, cruelty-free fashion. If you're interested in certifying your products with our "PETA-Approved Vegan" logo, have any further questions, or would like to qualify for the Vegan Fashion Award, please don't hesitate to contact us.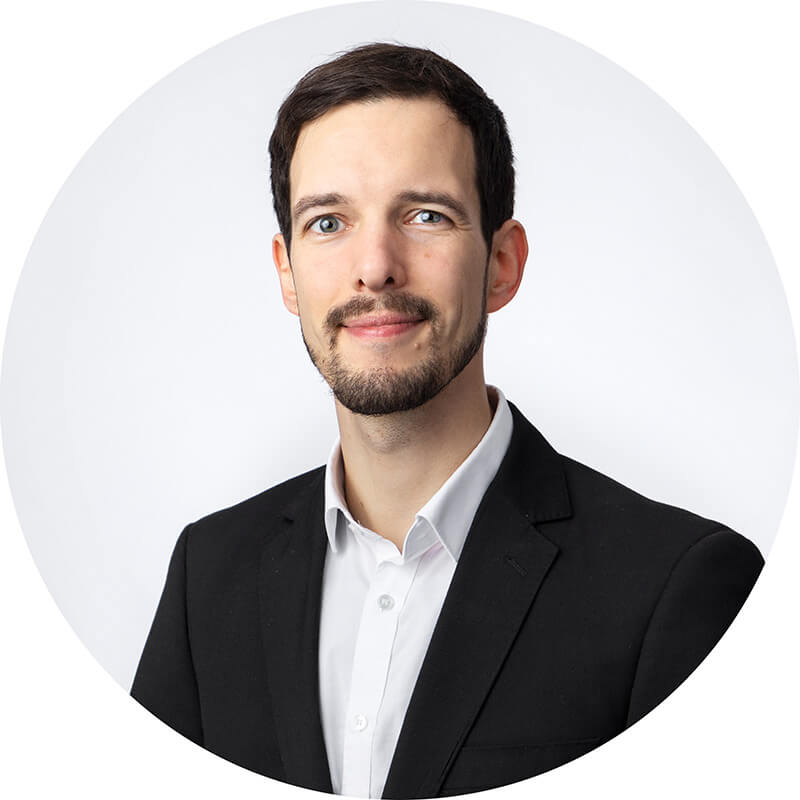 "Hello! Are you interested in our 'PETA-Approved Vegan' certification or our Vegan Fashion Award? Do you have any questions about vegan materials, or do you work in a relevant field? I'm looking forward to hearing from you.
Frank Schmidt
Director Corporate Responsibility
Contact: [email protected]
Unfortunately, experimenters are still conducting cruel tests on animals for cosmetics and personal-care products, but companies listed on our website crueltyfree.peta.org confirm that they do not conduct, commission, or accept tests on animals for their products or their ingredients. Because of the EU's specific labelling schemes, we offer the "PETA-Approved Global Animal Test Policy" logo for companies marketing their products in EU member states, while companies and brands selling vegan and animal test–free products may also receive certification to use the "PETA-Approved Vegan Global Animal Test Policy" logo.
Global Animal Test Policy – A certificate for manufacturers, brands, and their suppliers that do not conduct, commission, or pay for tests on animals anywhere in the world for final products or ingredients.
Vegan Global Animal Test Policy – A certificate for manufacturers and brands that comply with the requirements of the "PETA-Approved Global Animal Test Policy" logo and whose whole product range also contains no animal-derived ingredients.
Does your company have animal test–free or vegan standards as a matter of policy, and are you interested in getting certified? If not, are you willing to make your products vegan? Please go to crueltyfree.peta.org for further information, or send us a message.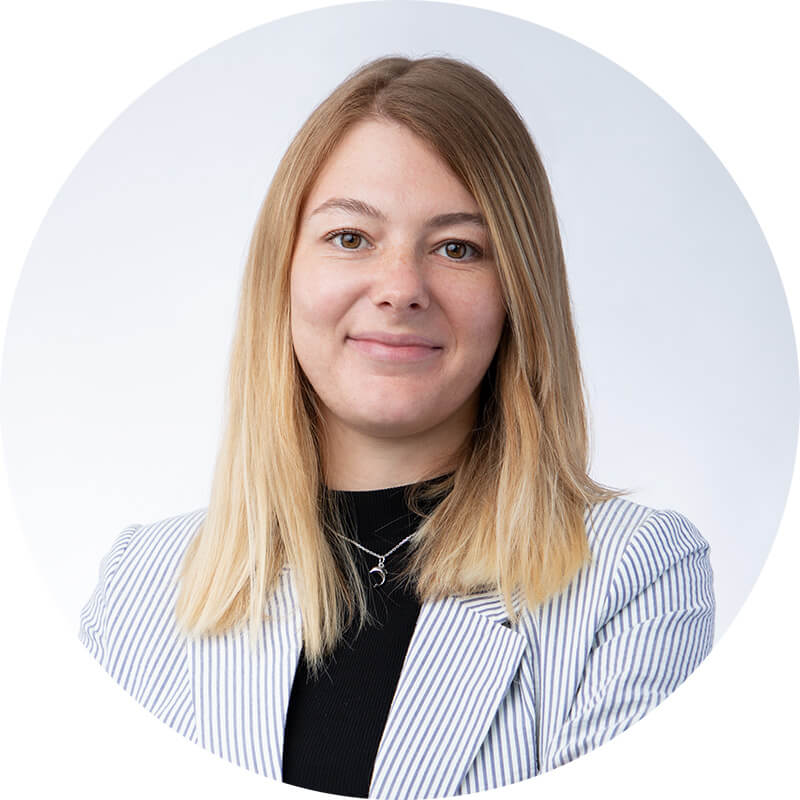 "Do you have questions concerning PETA's criteria for vegan and animal test–free products, or do you work in the beauty industry? I'm looking forward to hearing from and possibly partnering with you."
Rebecca Radoy
Managerin Corporate Responsibility Beauty Without Bunnies Programm
Kontakt: [email protected]
Vegan nutrition is something that more and more people care about. Shops, restaurants, supermarkets, and cafés are all responding to this demand by offering many vegan products. One example of PETA's cooperation with food companies is the Vegan Food Award, which honours companies within the food industry that develop vegan products and put them on the market.
Consumers also want to do the right thing when it comes to leisure opportunities and tourism. Increasingly, people are looking for sustainable destinations and cruelty-free activities that don't require animals to be exhibited or otherwise used for human entertainment. This is why PETA promotes leisure and tourism companies that are committed to high standards of sustainability and animal welfare.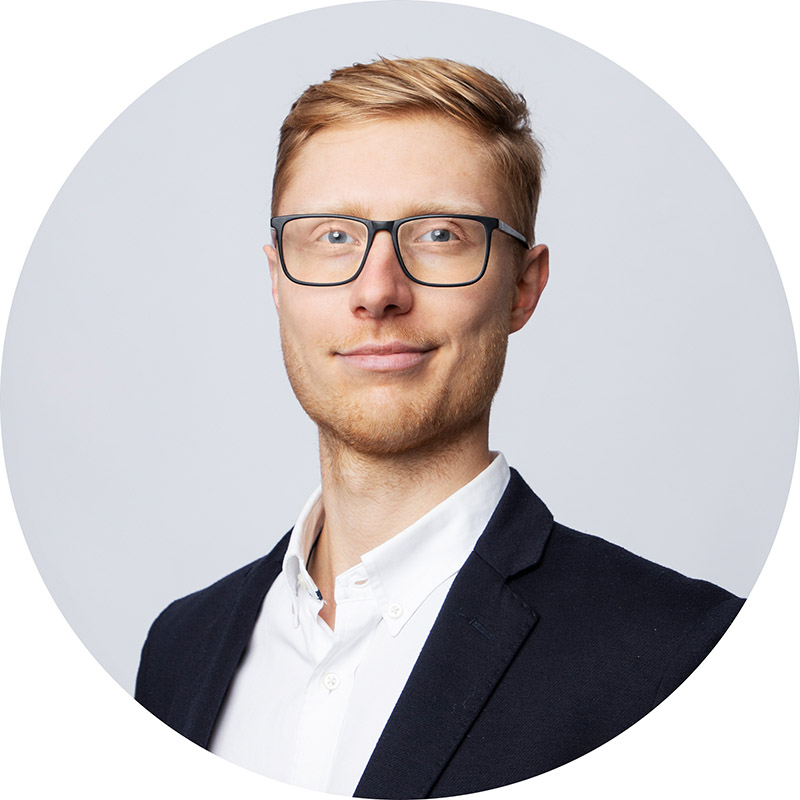 "Hello! Are you planning on introducing any new vegan foods in supermarkets or restaurants, or do you want to compete for our Vegan Food Award? Does your company offer humane tourist packages or animal-free entertainment? I'm looking forward to working with you."
Tobias Schalyo
Marketing Manager for Vegan Food, Tourism and Entertainment
Contact: [email protected]
A main focus of our work is to ensure that animal welfare, vegan living, and animal rights are part of a broad public discourse. Advertising helps us achieve this, and media companies can support us via the following options:
Free ads
Strengthen PETA's work with a filler ad in your print medium – we'll provide you with up-to-date campaign information on a regular basis. You can communicate with us directly or choose among the ads listed here: PETA.de/freianzeigen. Please contact us – even on short notice – about printing materials in the format you require.
Free billboards
Would you like to donate free ad space for a good cause? Use it to speak up for animals! We are always looking for ways to take our campaigns to the streets and would greatly appreciate your support.
Public service announcements for TV or the cinema
Let's work together to inspire people and draw attention to our cause in order to move animal rights forward. You can support us by running a public service announcement during your program. If you're considering this type of partnership, please get in touch with us. Our currently available commercials can be found here.
Public service announcements for radio
Help us get animal rights on the air! If you'd like to support us through radio broadcasting, please get in touch.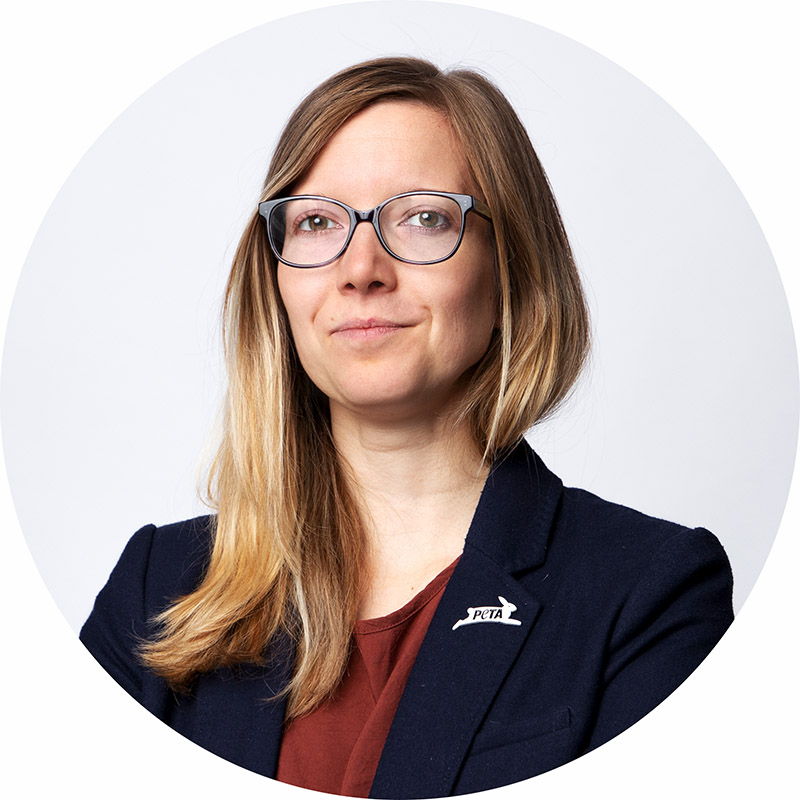 "Hello! My job at PETA is to get information about our campaigns to advertising media. I'm the contact for advertising industry companies that want to support our cause through their ad spaces and media. Are you an advertiser interested in working with us? Then please contact me so that we can go through your individual options together."
Katharina Wicke
Marketing Communications Manager
Contact: [email protected]
There are many ways for companies to support PETA aside from partnering with us. You can, for example, sponsor one of our free ads or make an appeal for donations on our behalf to inspire others to support us. Please don't hesitate to get in touch with our marketing department manager (above) if you need further information.
Katharina Wicke
Marketing Communications Manager
Contact: [email protected]
You can also support PETA by donating goods. If this is of interest to you, please contact our member support department: [email protected]
PETA often holds raffles and contests. If you would be interested in offering your vegan products or services as prizes, please e-mail us at [email protected].
Here are our past and current company partners:








Please note that this website is exclusively about cooperation opportunities with PETA Germany